---
Aboriginal Quitline Service
The Tasmanian Aboriginal Quitline Service is a free statewide, confidential, culturally sensitive telephone counselling service. The service is available from 9.00 – 5.00, Monday to Friday.
Evidence shows that people are more likely to engage with Quitline if they are referred by a third party.
The Aboriginal Quitline Service will help your client by providing:
culturally appropriate assistance with smoking cessation, tailored to individual needs
information on quitting methods and planning a quit attempt
strategies for coping with withdrawals/cravings and getting through difficult situations
tips for managing stress and weight gain
information on stop smoking medicines and nicotine replacement therapy options
call-back service
Refer a client to Quitline
Click here for the Aboriginal Quitline Referral form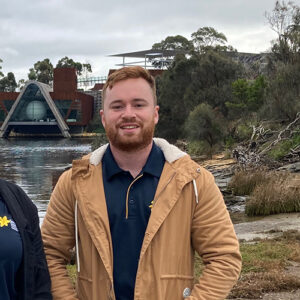 Hi I'm Brad,
I'm from the South-East mob in lutruwita (Tasmania)
I have lived in and around the Margate and Snug areas of Southern Tasmania my whole life and grew up playing in the local football teams in the area.
While working with Quit Tasmania I hope to strengthen communication lines with Aboriginal organisations and learn how to better connect our services with their own.
I am committed to supporting the Tasmanian Aboriginal community to make positive health changes in regards to smoking.
To contact Brad, please call Quit Tasmania on 6169 1943. We would love to collaborate with you on strategies that address tobacco use in the Tasmanian Aboriginal community.