How to help your clients quit for good.
Community service workers are in a pivotal position to have a conversation with their clients about smoking and to provide information and support on how to quit. Quit Tasmania has developed the Community Service Workers Toolkit to assist community service workers to start this conversation with their clients and to facilitate making smoking care part of everyday care. The Toolkit includes a booklet to use with clients as a conversation guide, support sheets to record conversations and actions, a cost calculator and wallet cards to give to the client.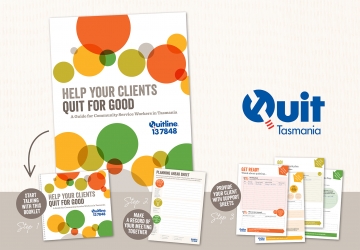 There is also a 3 hour smoking cessation training session available for community service workers. Please view the PDF here.
To order a free copy of the Toolkit, please complete the order form below. You can also order by emailing admin@quittas.org.au or phoning (03) 6169 1943.
The four Toolkit support sheets are available as PDF downloads below.
Supported by Primary Health Tasmania under the Primary Health Networks Program – an Australian Government initiative.
Community Service Workers Toolkit Order Form